Lawns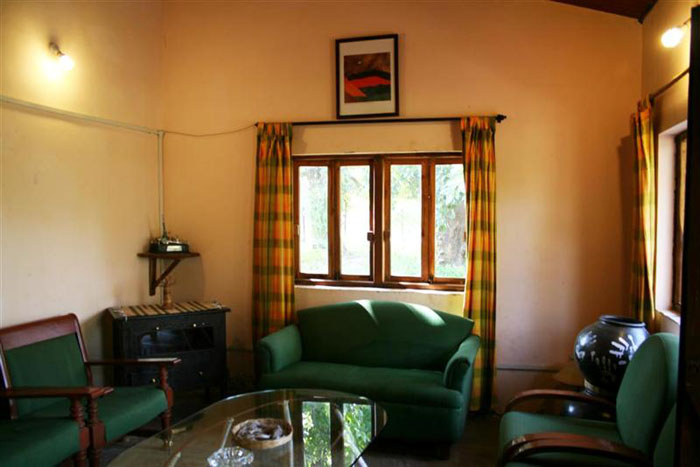 Reception




Inside Cottage




Inside Cottage




Cottage Sitout




Restaurant & Lounge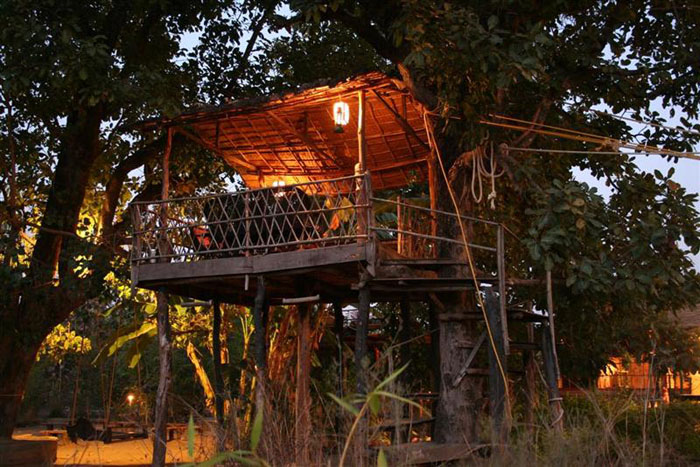 Machan




Towards Bonfire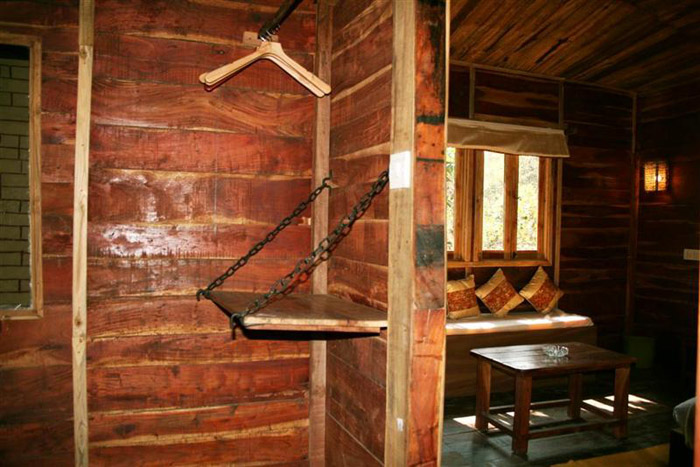 Dressing Room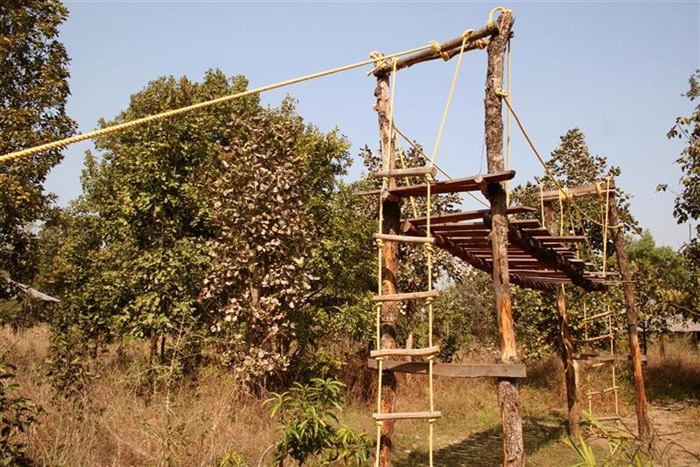 Activity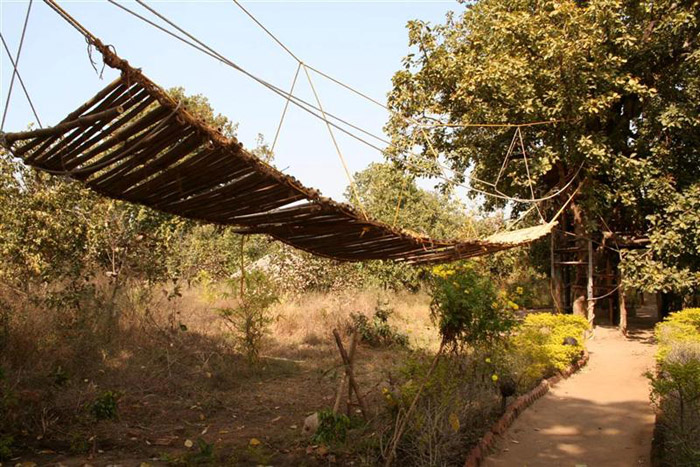 Activity




Wooden Washroom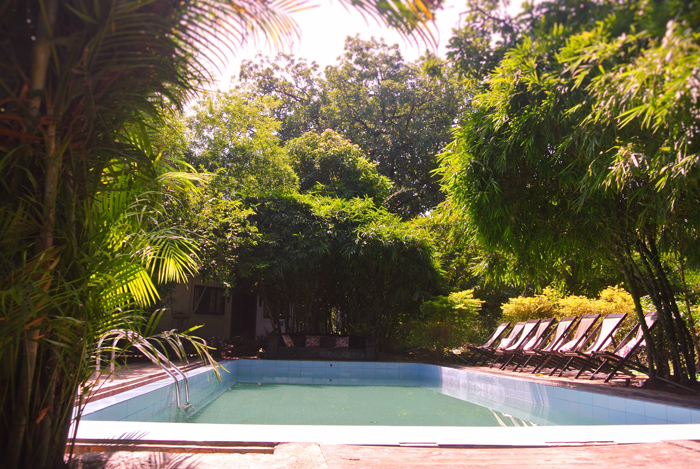 Swimming Pool
PACKAGES
(Valid upto 30 Sept 2017)
Room Type
No Of Cottages
Cottage + All meals ( AP )
(Indian Rupees)

Wooden AC Cottage
10
5000
Taxes extra @ 5%.

Group and Conference rates are available on enquiry.
Single occupancy rates - 10% less than the above rates.

THE PACKAGE IS INCLUSIVE OF:

• Accommodation on twin sharing basis per couple per night
• Children upto 5 years are free on the respective package without extra bed sharing parent's room
• 5- 12 years- 25% & above 12 years- 35% of the respective package with ( or without ) extra bed

NOTE -
1. The resort is in the buffer zone, less than a kilometer from Turia gate
2. We have 10 identical cottages with balconies facing the forest, that happens to be the route of 'Baghinnala' tigress
3. The dimensions of our Swimming pool are 32x16 feet and it'll be operational from Oct 2015 onwards
4. We are in the process of developing a spacious lawn for sitouts and playing leisure games with group
5. Our organic kitchen garden has vegetables like tomato, lemon, chillies, bottle gourd etc that can be picked by guests as they cook
6. Our multi-cuisine restaurant will serve Indian, Italian, and Chinese along with freshly baked goods like multiple breads, cookies, and cakes
7. Our community space/dining has a fully fledged library, indoor games like carom board. We will eventually introduce a pool table and a projector with screen for movies, etc.
8. A small spa will be planned in the vicinity of the pool
9. An observation deck with a telescope for stargazing is On the cards
10. In addition we offer activities like chocolate making workshops, pottery class for group of kids, suryanamaskar early morning for those interested, exclusive bon fire for anniversaries etc, nature walk in the buffer zone, drives to Pachdhar and Kohka Dam. All at extra cost.
11. A pickup and drop from Nagpur can be arranged.
12. Akubra, an Australian company will display authentic leather hats at the resort.


All payments to be made in favor of "ANANYA HOTELS"
It can also be deposited in HDFC Bank Ac no 1668 202 0000 100.
Branch - Anand Vihar, New Delhi
IFSC code - HDFC0001668


JUNGLE SAFARI IN OPEN JEEPS -
Jungle safaris (by jeep) into the core zone of the National Park are conducted twice a day. A qualified naturalist will accompany you on every trip to help you interpret the exotic flora and fauna of the region. Joy rides in the forest on elephant-back are also offered during morning safaris ( Subject to availability and bookings).


Tiger N Woods is located just 01 KM from TURIA gate.
The Park is open from 16 Oct to 15 June

There are 2 safaris that can be taken in a day -

Morning safari - from 6 to 10 AM.

Afternoon safari - from 2 to 6 PM.


COST -

For Indians - Rs 4500/-

This is inclusive of the jeep, entry costs, expert naturalist and all taxes. Max 6 in a jeep.

For Foreigners - Rs 5500/-

This is inclusive of the jeep, entry costs, expert naturalist and all taxes. Max 6 in a jeep.

This cost is same for 1 - 6 persons per jeep.

BOOKING -

We advice you to book the Jungle safari in 4x4 open Gypsies in advance.


CANCELLATION - NO refund is done for any of the above safaris.

All guests must adhere to the Code of conduct during the safaris. Copy of the same is available at the Resort

NATURE WALKS -
Getting up-close to nature is fully experienced only when you venture out and feel the emotions she exudes. Learn everything about the flora and fauna of the region from our naturalists who will lead you on the trail.

BIRD WATCHING -
Bird watching in Pench is an excellent pastime with over 210 species of birds being recorded here.
The Pench region is dominated by dense forests, but you can also find patches of shrubs around the periphery as well as a lot of cultivation around the area. The water bodies inside the park act as an attraction to a wide variety of water birds. Even when the water bodies recedes, it leaves isolated pools of water that attract a multitude of birds as fishes are trapped in them.

Star gazing & Night Safari -
One of the nicest things about a resort in the wilderness is the beautiful clear sky above. In the jungle due to almost zero pollution ,at night the sky is full of millions and millions of bright twinkling stars, which you dont ever get to see in the city, and people often rememorize their poem of the twinkling stars of their childhood all over again.


Activities at the Resort
Jeep Safari, Elephant Safari, Wildlife movies, Folk dance, Badminton, Carom, Bonfire dinner with Bar-be-Que, Bird watching with expert naturalist.



ABOUT PENCH-

The total area under the Pench Tiger Reserve comes to about 758-km, out of which a core area of 299-sq-km is the National Park and 464-km the buffer area.
Pench National Park, nestling in the lower southern reaches of the Satpura hills is named after Pench river which flows from north to south through the Pench National Park. It is located on the southern boundary of Madhya Pradesh.

Recently in 1992, Pench has been included under the umbrella of "Project Tiger" as the 19th Project Tiger Reserve.

A total of 758 Sq. kms of this Southern Indian tropical moist deciduous forest has its extent mingling with the tropical dry deciduous teak. The area is crisscrossed by a number of streams and 'nallahs' most of which are seasonal. Though the Pench River dries up in April end, a number of water pools locally known as 'dohs' are found which serve as water holes for the wild animals. The Pench Reservoir at the center of the park is the only major water source during the pinch period.

As a prey concentration is high along the Pench River, tiger usually inhabits frequents this belt. Leopard though generally operates in the peripheral areas but are occasionally seen in the deep forest also. Jungle cats are commonly seen. Leopard cats, small Indian civets and palm civets are common but seen rarely.

In Pench, Cheetal, Sambar, nilgai are commonly seen grazing on the open sites on roadsides and banks of river & reservoir. Jackals can be seen in search of food anywhere in the Park. Packs up to 15 of wild dog can be seen near Chhedia, Jamtara, Bodanala and Pyorthadi areas of the Reserve. Herds of gaur can be spotted near streams and bamboo patches commonly in summer months. Sloth beer occupy hilly, rocky out crops and favour mahul bel infested forest. Chnkara is present in very small numbers and is found in open areas around Turia, Telia and Dudhgaon villages.

Langoors are very common in Pench, whereas the Rhesus monkeys may be seen occasionally on the fringes. Pench boasts of, more than 210 species of birds that include several migratory ones also. Commonly seen are Peafowl, Red jungle fowl, Crow pheasant, Crimson breasted barbet, Redvented bulbul, Racket tailed drongo, Magpie robin and lesser whistling teal.


Weather
Summers - Day 42, Night 26
Winters - Day 16, Night 03

How To Reach

By Road - Nagpur –Kamptee – Kanhan –Mansar –Deolapar –Khawasa –Turia Village – Pench

| | | | | | |
| --- | --- | --- | --- | --- | --- |
| | | | | | |
| Jabalpur | Airport + Railway station | 190 KM | 3 Hrs | | |
| Nagpur | Airport + Railway station | 115 KM | 2 Hrs | | |
| Panchmarhi | | KM | Hrs | | |

Mobile Connectivity - Almost all mobile network are available within the range after reaching the resort, though we might have a weak signal at some places due to the dense forest area.


FAUNA AT PENCH NATIONAL PARK -
The fauna boasts more than 210 species of birds, including the Pea fowl, Red jungle fowl, Crow pheasant, Crimson breasted barbet, Red vented bulbul, Racket tailed drongo, Magpie robin, Lesser whistling teal, and many more, as well as an impressive assemblage of herbivores like the, the Gaur (Indian Bison), Neelgai, Sambar, and chital deer, Which results in a high density of prey in this region.
This in turn, supports a large and thriving population of predators like the Tiger, Leopard, the Indian Wild Dog, hyena, Sloth bear, etc.

FLORA AT PENCH NATIONAL PARK -
This is southern topical dry deciduous forest and is a home to a variety of trees and wild animals. Main trees species found over here are Anjan, Bhirra, Bija, Hirda, Kalam, Khair, Medsing, Moha, Mokha, Palas, Rohan, Tick and Shisham, Tendu, and Tiwas. The main shrubs found in this area are Bharati, Dudhi, Ghaneri, Nirgudi, Phetra, Bamboo, Katang Bamboo, Kusal. The undergrowth consists of Divali, Gajargawat, Goakru, Rantulsi, Tarota and Marvel. Sabai and Thikhadi are the main grasses. Eroni, Gunj, Gulvel and Khobarvel are main climbers.


FACTS ABOUT TIGERS -
• Scientific name of the Tiger: PANTHERA TIGRIS.
• Tigers are the biggest cats in the world, weighing up to 500 pounds and 6 feet in length, not including a 3 foot tail.
• Tigers have been classified into 5 subspecies. These are the Royal Bengal, Siberian, Indo-Chinese, South-china and the Sumatran tiger.
• The Bali Tiger is now extinct. Loss of habitat was the main cause of this subspecies extinction.
• There are a total of 29 Tiger Reserves in India. They cover approximately 1.17% of the total geographical area.
• Just like the human fingerprint, the stripes on the tiger are unique to that individual. In fact people who thoroughly observe the tiger population of an area can distinguish between them.
• Tigers have enhanced vision as compared to us humans. They see 6 times better!
• A tiger can eat 80 pounds of meat in one sitting.
• A tiger makes a successful kill once in every twenty attempts. They are ambush predators and must rely on their stealth and not speed. They hunt mainly at dawn and dusk.
• India has the largest population of wild tigers in the world. The most recent tiger count yielded a truly disturbing figure. Only 1400 individuals are left.
• A captive tiger has never been successfully reintroduced into the wild because a human surrogate mother cannot teach the cubs the skills they would have learnt in the forest as cubs.
• The life expectancy of the tiger is between 10 – 15 Years in the wild, and 15 – 20 in captivity.
• Last but not the least Tigers are on the list of endangered species. Radical conservation steps need to be taken to save this beautiful animal from extinction.

Delhi Sales Office:
C - 85, Chander Nagar, Ramprastha
Ghaziabad - 201011, INDIA
Landline: +91.120.4108341, +91.120.4220358
Mobile: +919871587150, +919868808107, + 919910295370
E Mail: pench@AjitJain.com

Resort:
Tiger N Woods
Village Avargani, Pench Tiger Reserve
Tehsil Khurai, Distt Seoni, Madhya Pradesh, INDIA
Tel: +91.9575100094